Paal Payasam or Rice Kheer is a Kerala Dessert made with sugar,milk and Raw rice. Usually it is prepared during Festive occasions.The Payasam will be slight pink in colour since it is cooked with Unakkalari in milk with slow flame.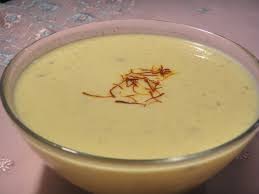 Ingredients
Unakal Ari(Raw rice for Payasam)-200gm
Milk -2litre
Sugar -500gm
Butter(Unsalted) -200gm
Ghee -2tsp
Cashew/Raisins -1ogm each
Cardamom -6nos
Saffron (Optional) -Few strands
Method of preparation
Clean and wash the rice and keep it aside.Boil the milk.Add the cleaned rice to it and cook till done by stirring continuously over low flame.Now add the sugar and butter in parts and stir thoroughly.Add the cardamom powder and Saffron.Fry the Cashew and Raisins and add to the payasam and remove from heat when required consistency is reached.