Cake is a dessert that is usually baked. But here is a simple recipe that can be prepared in pressure cooker and loved by all.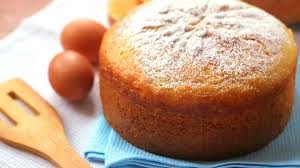 Ingredients
All purpose flour 1cup
Powdered sugar 3/4 cup
Refined oil 3/4 cup
yoghurt 1/2 cup
Baking powder 1 tsp
Baking soda about 1/2 tsppinch
Vanila Essence 1tsp
Method
Before mixing the ingredients first let us preheat the pressure cooker. Take a wide heavy bottomed pressure cooker and add 2-3 inches of salt on it.
Place over the heat and close the lid with out whistle.
In the meantime we will prepare cake batter.
To prepare cake batter, sieve all-purpose flour once or twice and keep aside
Mix yoghurt and sugar and beat well both until air bubbles appears on it.
Add baking soda followed by baking powder and mix well.
Leave it for around 3 minutes
Add vegetable oil and vanilla essence to the mixture and mix well.
Slowly add little by little all purpose flour (about a tbsp) at a time and fold into the wet ingredients.
Grease your baking tray and dust some all purpose flour over it.
Next transfer the batter to the dusted baking tin.
Place the baking tin inside the preheated cooker and cook on a low flame for around 15- 20 minutes.
Keep checking in between to prevent burning.
To check if it done, take a toothpick and pierce it through the cake.
If it comes out clean then cake is ready.
Remove from baking tin and let it cool .