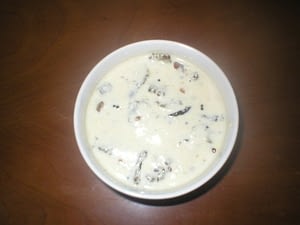 Pavakka or Bitter Gourd is vegetable that is litter bitter and not loved by children.But its bitterness can be reduced by adding curd to it.Now try out this recipe and present it to your children.Iam sure that they will love it.
Pacchadi is an essential item in the kerala sadhya.You can store the pacchadi for 2-3 days even outside the refrigerator.
Ingredients
Bitter Gourd 1
Small Onion 15Nos
Green Chilly 15 Nos
Sour Curd 1/2 Cup
Coconut 1/2 Cup
Mustard seeds 1tsp
Curry Leaves
Oil To fry
Salt To Taste
Sugar A pinch
Method
Cut the bitter gourd in round shape and remove the seeds inside.Cut the green chillys in round shape.Cut the onion length wise.Fry all in oil.Remove from oil.Grind the coconut into a fine paste.To one tsp oil add the mustard seeds and curry leaves. To this add the fried ingredients.Add the coconut paste and saught for a while, Add the salt. Add the curd and remove from heat.Add a pinch of sugar to it and serve cold.