Olan is a curry that is usually included in Onam sadya and it is said that to know the taste of all the sadya dishes it is a must that we taste Olan each time. Here is the recipe for the simple and easy dish.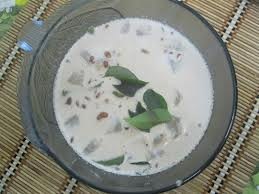 Ingredients
Cow pea/Vanpayar – 1/4 cup
Ash Gourd – 1.5 cup
Green chillies- 5-6
Coconut milk thin- 2cups
Coconut milk thick -1 cup
Curry leaves – 1 spring
Salt- To taste
Method
Soak the cow pea for 6-7 hours. Cook it with salt and remove the water in it. Keep it aside.
Cook the ash gourd with split green chillies and salt in the thin coconut milk( randampaal).
Do not over cook the Ash gourd.
Mix the cow pea and Ash gourd together, check for salt and bring to a boil.
Add the thick coconut milk and curry leaves.
Remove from heat before it boils and add 1tsp coconut oil.
Let the curry stand for 15-20 minutes before being served.
Note: The left over water in the cooked Cow pea gives it a pinkish colour. Since Olan is pure white in colour discard the water.
Some people use Pumpkin along with Ash Gourd. In that case add equal quantity of Pumpkin as Ash Gourd and increase the amount of Cow Pea.
Letting the curry stand for some time increases the flavour and thickens the curry.