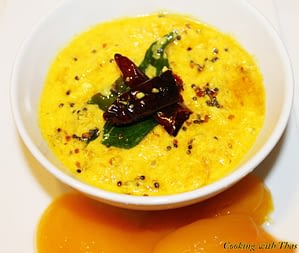 Ingredients
Small ripe mangoes – 10-12
Turmeric powder 1/2 tsp
Chilly Powder 1 1/2 tsp
Green Chillies 6 Nos
Salt To taste
Coconut 1/2 of one big coconut
Green chillies 10-15
Crushed yoghurt 2lts
Fenugreek Powder 1/2 tsp
Mustard Seeds 1tsp
whole red chillies and Curry Leaves
Method
Cook Mambazham with salt,turmeric powder,Chilly powder and 6 green chillies.
When water drains completely add the yoghurt and cook till it becomes about half the quantity.Grind the coconut into a fine paste along with the remaining green chillies.Add it to the cooked dish. Add the fenugreek powder.When it just boils remove from heat.Splutter the mustard,add red chillies cut into halves and curry leaves.Add it to the kalan.
Note: If required add 100 grams of jaggery while cooking the Mambazham.It enhances the sweetness of the dish.