Beetroot is a bit sweet vegetable.If made pickle out of it goes well with Rice or Chappati. Please try out this recipe and have delicious Beetroot Pickle.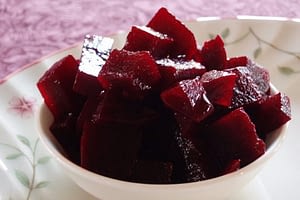 Ingredients
Beetroot -500gms
Red Chilly powder-1tsp
Turmeric Powder -1/4tsp
Mustard Seeds -1/2tsp
Ginger -25gms
Garlic -50gms
Green Chilly -50gms
Vinegar -10ml
Gingely Oil -1 cup
Salt -As required
Method
Remove the skin of the Beetroot and cut into small pieces. Heat a pan and add oil to it.Add the Mustard Seeds and let it splutter. Grind Ginger and Garlic pieces.Add this to the oil. Also add the cut green chillies to it and fry for 3 minutes.Add the chilly and turmeric powders.Saute for a while and add the Beetroot pieces to it.Saute for a few minutes and add the vinegar and salt.Put off the flame and serve when chilled.