Mushrooms contain 80-90 percent of water and are very low in calories. They are good source of minerals and are high in anti-oxidants.We can make various dishes with it which includes Biryani,Pulao,Curry,Fry etc.Here is a simple Kerala Style Mushroom Curry.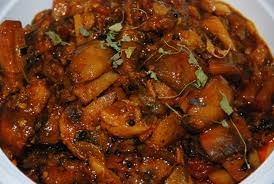 Ingredients
Button Mushroom -250gms
Coconut -Cup
Coriander Powder -4tsp
Chilly Powder -3tsp
Turmeric Powder -1/4tsp
Onion,curry leaves -For seasoning
Coconut oil -For seasoning
Mustard Seeds – For seasoning
Salt -As required
Method
Clean the Mushrooms and cut into pieces.Add some water,salt and Turmeric powder and cook.Meanwhile fry the coconut in 1tsp coconut oil till brown.When it is done add the coriander and Chilly powder.Fry for a minute and put off the flame.Grind it to a fine paste.Add the paste to the cooked Mushroom.Bring to a boil and put off the flame when water is adjusted.Season with coconut oil and and pour over the curry.