Vegetable Cutlet is an appetiser that is a good starter for a dinner or as a snack.The snack made with vegetables and potatoes is a healthy dish.try out this recipe.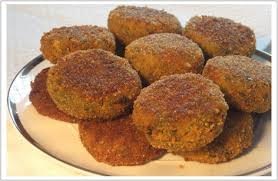 Ingredients

Mixed vegetables 1 cup
(It Includes carrot,french beans,cabbage)
Potatoes (Boiled) 2
Onion (big) 1
Green Chillies-3-4
Ginger – 1 inch piece
Garlic Pods-3-4
Turmeric Powder-1/4tsp
Corinder Powder-11/2tsp
Chilly Powder-1tsp
Maida-3tbs
Bread Crumbs-1cup
Garam Masala powder-1/2tsp
Salt -To Taste
Coconut Oil- For deep frying
Method
Grate all the vegetables,onion,ginger,garlic and green chillies preferably in a food processor.Boil,remove the skin and grate the Potatoes.Take a pan, add oil, add the vegetable mixture.Saute for a while by adding salt.Add turmeric, coriander and chill powder cook in a very slow flame, keep mixing.Add the grated potatoes.Mix well and adjust the salt.Add the garam Masala Powder.Remove from heat and let it cool .Make small dumplings of desired shape.Mix maida with water to make a paste or you can use egg and dip the cutlet into it .Roll over bread crumbs. Now heat oil and deep fry the cutlets till it becomes golden brown color.
Note
If you like you can use beet root also.This will give a reddish colour to your snack.
you can avoid garam masala if you do not want its taste.