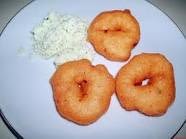 Ingredients
| | |
| --- | --- |
| Uzhunnu (Black Gram) | 1cup |
| Green Chillies | 3-4 |
| Shallots | 6-7 |
| Black Pepper corns | 6-8 |
| Ginger | 1 ½" piece |
| Curry leaves | 1 stick |
| Salt | To Taste |
| Oil | To Fry |
Method
Soak the Urad dal in water for about 4 hours.Drain the water and grind it without using water or if required use as much less water as possible.Keep it aside.Cut the green chillies ,  curry leaves ,ginger and shallots into small pieces.Grind the peppercorns into half.Add all these along with salt to the ground mixture.Keep aside for about half an hour.Now heat oil in a pan.Wet your left hand with water and take a lemon sized ball from the mixture and  make it in to the shape of vada with a hole in the centre. Deep fry in oil over a medium flame.Serve hot with coconut chutney.
Note: If water is more in the mixture add few tsp of rice flour or urad dal powder.But this will make the vada hard.Use a foor processor or nadan ammikallu for grinding the dal.
If you wish you can enhance the taste by add small pieces of carrot or coconut to the batter before frying.