Potatoes can be used to make a variety of dishes. It serves as curry,appetizers,sancks etc.Here is a simple recipe to make potato bondas.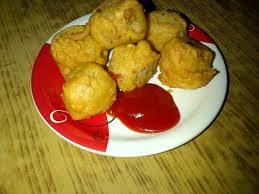 Ingredients
Potato 4
onion 1
Green chilly 2
Turmeric Powder 1/2tsp
Ginger 1piece
Garlic 2
Crushed Pepper 10
Soda powder A pinch
Maida Flour 3cups
Urad Dal 2tsp
Coconut Oil To fry
Mustard Seeds For seasoning
Curry Leaves
Salt As per taste
Method
Boil the potatos and crush. Cut onion,green chillies,ginger and garlic into small pieces. Add two tsp oil in a pan and heat. Season with urad dal and mustard seeds. Add the boiled potato,onion, green chilly,ginger,garlic,curry leaves,salt,turmeric power,crushed pepper powder and saute for a while. Remove from heat and divide into small balls of equal size.Make batter with maida and soda powder (Dosa batter consistency).Dip each ball in the batter and deep fry in coconut oil. Serve hot with chutney.