Pathiri is a traditional food of the Muslims of kerala.There are many versions of pathiri using rice flour,wheat flour etc.Here is the recipe of the rice pathiri.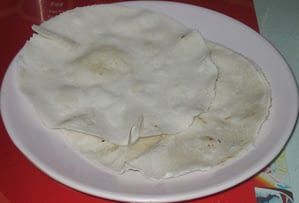 Ingredients
Rice flour           11/2 cup
Water                  2 cups
Salt                      As per taste
Coconut oil      1tsp
Method
Boil the water.Add salt.To the boiling water add the rice flour and stir well.Remove from heat.Add coconut oil and knead well when the flour is slightly warm and make the dough as soft as possible.Make small balls and roll out.Fry both sides without oil.
Note: The rice flour should be finely powdered and fried.