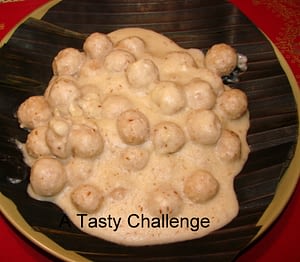 Kozhi Pidi is a very delicious recipe used in the middle and northern kerala. In malayalam, kozhi means chicken and pidi is small rice balls. In short rice balls are cooked with chicken curry in  coconut milk.
Ingredients
Chicken 250kg
Coconut 1
Big Onion 3
Green Chillies 7-8
Ginger Garlic Paste 1tsp
Chilly Powder 1tsp
Coriander Powder 2 tsp
Turmeric Powder 1/4 tsp
Garam Masala Powder 1tsp
Curry leaves
Salt
Rice flour 200gm
Jeera 1/4tsp
Garlic pods 3-4
Method
Boil 2 1/2 cups of water.Coarsly grind the garlic pods and jeera.Add this to the water.To the rice flour add salt and mix well.Add the water and mix with the flour.The dough should be in a consistency of Idiyappam.Make small gooseberry sized balls out of it.Again boil 2 cups of water.Add the balls to it.Stir occassionally.When the water is about to finish add coconut 11/2 cups of coconut milk.Remove from heat.To a hot pan add coconut oil.Add cut onions and saught for a while.Add ginger garlic paste and green chillies.Fry for some time.Add coriander,chilly and turmeric powder to it. When it is fry add chicken pieces to it.Add curry leaves,salt and garam masala powder.Add half glass water and close with a lid and cook till it is done.Now add 1 cup of coconut milk and remove from heat.Serve hot with pidi.