Parotta has become a favourite dish among the keralites.The recipe is  simple but the process is lengthy.But if you can spend some time over the dish it comes out very well. Now try out this recipe.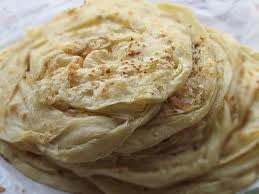 Ingredents

Maida flour           2cups
Egg                           1(Beaten)
Butter/Dalda       3tsp
Milk                         4tsp
Luke warm water To make the dough
salt                            To taste
Sugar                        A pinch
Method
Mix all the ingredients together and  knead the dough together thoroughly just like you prepare chappathi/roti dough.The dough should be as smooth as possible.Keep aside for 1 hour covered with wet muslin cloth.Try to wet the cloth frequently so that it does not go dry.Now divide the dough into equal parts of one tomato sized balls.Cover and keep for 15 minutes.Take out a ball and apply some oil on it.Place the dough  over a smooth surface and spread into as thin as possible sheet.(Forget about the shape and mild cracks.)Do not use powder for spreading instead use some oil as and when required.Now using both hands make pleates on the rolled dough from one end.Catch at one end and rotate in spiral way to make a spherical ball.Repeat with each ball the same process.During this time each balls must be covered with wet muslin cloth.Now spread the balls out in to the shape of parotta using your hand or rolling pin.Heat a tava and fry the parotta in it.When three or more parottas are done place it in between the hands and slightly tap from all the sides.This will help in seperating the different layers between the parotta.
The parotta goes well with any vegetarian or non vegetarian dishes.