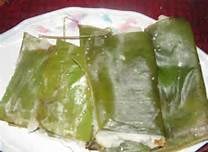 Ada is an evening snack which is healthy and nutricious. The fact that it is steamed makes it more appreciable.
Ingredients
| | |
| --- | --- |
| Raw rice flour(Fried) | 1 cup |
| Nendran | 1 |
| Jaggery | ½ cup |
| Scraped Coconut | 1 cup |
| Cardamom Powder | ½ tsp |
| Salt | As required |
| Boiling water | To knead flour |
Method
To the rice flour add salt and boiling water and knead well with a ladle. When heat reduces use your hands and knead well just like chapatti flour. Keep it aside. Mix the Nendran, jaggery, coconut and cardamom powder together with your hand.Divide it into equal parts.Make lemon sized balls from the rice flour mixture same quantity as that of filling. Spread each on plantain leaf with your hand and place the filling on the middle and spread towards one side. Fold the leaf and steam in a pressure cooker or idly pan.
Note: If you do not have plantain leaf use plastic sheet of Aluminium wrapper to spread and slip off the covering before steaming. While doing so remember to grease the pan before placing the Ada. The Ada will look little sticky just after steaming but on cooling it will regain its original consistency.