Chicken Cutlet is a simple and easy to cook snack that can be served along with evening tea or even as a side dish for lunch or dinner. You can easily put in between two bread pieces and make sandwich or can roll along chappatis to make a lunch for the kids.Its quiet healthy and can be preserved in freezer without frying and can be fried as and when required.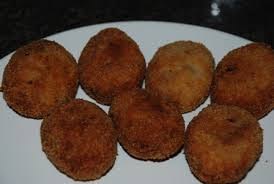 Ingredients
Boneless Chicken -500gms
Onion – 1 big
Potato – 2 Medium
Chopped Ginger – 1tbs
Chopped Garlic – 1tbs
Chopped Green chilies – 1tbs
Chilly Powder – 1/2tsp
Pepper Powder – 1/4tsp
Coriander Powder – 1/2tsp
Turmeric Powder – 1/4tsp
Garam Masala Powder -1/2tsp
Curry Leaves- Chopped
Salt – As desired
Bread Crumbs – 1cup
Egg – 2
Oil – For deep Frying
Method
Cook the chicken with salt and turmeric powder. Mince it. In a pan put some oil and saute onion,ginger,garlic,curry leaves and green chilly. Add all the powders and fry for 2 minutes.Add the minced chicken and mashed potatoes. Check and adjust the salt.Remove from heat.When cooled make small balls of the mixture and spread out into desired shape.(At this stage you can deep freeze and fry when desired) Beat the eggs and add a spoon full of water to it.Dip the shaped cutlets in the egg and roll over bread crumbs.Deep fry in oil.Serve hot.