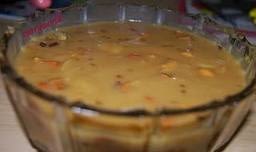 | | |
| --- | --- |
| Ingredients | |
| Ada | 50g |
| Jaggery | 150g |
| Coconut milk | 250ml |
| Raisins | 25g |
| Cashew nuts | 25g |
| Ghee | 50ml |
| Cardamom powder | 2tbs |
| Coconut | ¼ cup |
Method
Boil the ada and remove the water. Boil the jaggery with some water and make a syrup. Strain through a strainer. Coconut milk is to be extracted in two stages.First extract a cup of milk by adding a bit or no water at all.Keep it aside.Again extract the juice by adding some water to it.keep both the milk separately.Fry the cashews,raisins and sliced coconut pieces in ghee.Remove them and keep aside.To the ghee add the ada and add the jaggery juice.Cook it well.Add the second coconut milk to it. Cook till the payasam is of right consistency.Now add the thick coconut milk to it and put off the flame as and when it begins to boil.Add the cardamom powder and fried ingredients to the payasam and serve.