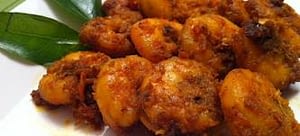 Prawns fry is an excellent recipe that you can have with any of your favourite dish or as a starter. Always try to use coconut oil to fry the prawns and also do not over cook it. Over cooking results in a hard and elastic texture. The cooking time should be reduced to get an enhanced flavour and taste.
Ingredients
Prawns(Medium sized) – 250 gm
Chilly Powder – 1 1/2 tsp
Turmeric Powder – 1/4 tsp
Pepper Powder – 1/2 tsp
Ginger Paste – 1tsp
Garlic Paste – tsp
Salt – To taste
Coconut Oil – For shallow frying
Curry Leaves- As required
Method
Clean the prawns and devein it. Wash with some salt and remove the water completely. Insert coconut leaf stick (eerkil) or curry leaves stem or tooth prick into the prawns so that it does not shrink much while cooking. Mix all the powders, paste and salt together with some oil. Marinate over prawns and leave for half an hour.Shallow fry in oil for about 2 1/2 minutes. Spread curry leaves. Turn over and again fry for 2 1/2 minutes.
Note: Remove the sticks before serving. You can use tiger prawns or any prawns not too small. For small prawns the recipe varies.