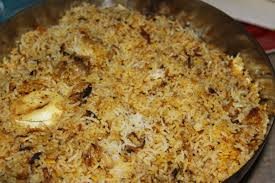 Ingredients
Mutton 1kg
Biryani rice 1/2kg
Big Onion 3/4kg
Green Chilly 20
Ginger Crushed 2tsp
Garlic Crushed 2tsp
Coriander leaves 1 hand full
Pudina Leaves 1/2 hand full
Curd 1/2 cup
Garam Masala Powder 2tsp
Coriander Powder 1tsp
Chilly Powder 1/2ts
Crushed Pepper Powder 2tsp
Cinnamon 3 piece
Cardamom 3
Cloves 3
Lemon Juice 4tsp
Ghee 100gm
Oil 50gm
Cashews/ Raisins As required
salt To Taste
Method
For Marination
To the Mutton pieces add half the lemon juice, salt, turmeric powder, 1tsp pepper powder, 1tsp garam masala powder and 2tsp curd and mix well and keep it aside atleast for half an hour and cook well.
Garnishing
Cut the onions into thin slices . Fry two onions in oil untill crispy and keep it aside. Fry Cashews and Raisins and keep it aside.
For Rice
Take a pan and add 2 tsp ghee to it and add the whole spices. Add double the quantity of water or as required and bring to boil. Add required salt and lime juice . Add the rice and cook till 3/4th done.
For Gravy
In a hot pan add oil and fry the onions. To it add the ginger, garlic, green chillies , turmeric powder, chilly powder and coriander powder and mix it well. Add garam masala, chopped coriander and mint leaves.Add the curd and saute. Add Salt.Then place the cooked mutton into the masala and cook it for few mins. Remove it from fire and keep it aside for few mins.
Layering
Add little ghee into a heavy bottom vessel and put a layer of mutton. Then arrange a layer of rice and spread it well using a big spoon. Next add chopped coriander leaves, mint leaves and fried onion. Repeat the same process and arrange the final layer with rice. Garnish it with, fried cashews, raisins and onion. Pour the remaining Ghee. Cover it well and cook it in low flame for 10 to 15 mins.
Serve with salad and pickle.