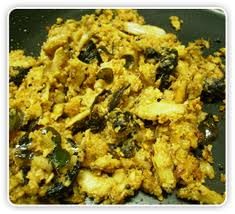 Meen peera vattichathu is a special dish which is loved by both adults as well as children.It is simple in preparation and since the dish is not too spicy or hot it can be given to children.Usually Natholi (Kozhuva) or small sardines are best suited for the recipe.Try the one given over here and you will surely love it.
Ingredients
Any small fish or fish fillets   1/2kg
coconut  grated                           2 cups
Shallots/Small onions               10
Ginger                                               1 Big piece
Green chillies                                 5-6
Garlic cloves                                  6
Turmeric powder                         1/2tsp
Curry leaves                                    1 spring
Salt to taste
Kudampuli or cocum                   3 pieces
Water                                                   1 cup
Coconut oil                                        2 tsp
Method
Clean fish.Add salt to it.Soak the kudampuli in water for 15 minutes. Crush coconut, onions, ginger, chillies and garlic under a grinding stone. Add the turmeric powder to the mix. Mix in the raw fish with the crushed ingredients and curry leaves .Put the mixture in a pan or an earthenware vessel, add the water and kudampuli to it.  Bring to boil, lower the heat and allow the mixture to dry out, taking care to see that the curry does not stick to the bottom of the pan.Put off the flame. Add the coconut oil and mix well.Close the pan.Open after 10 minutes and serve hot.