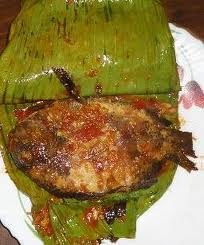 Karimeen is an all time favourite of the Keralites.The Karimeen fried by wrapping in Banana leaves with some favourite masalas added to it is called as Karimeen pollichthu.Here come the mouth watering Karimeen Pollichathu recipe.It you do not have banana leaves just wrap the fish in an aluminium wrapper.Serve without opening the cover.The dish goes very well with rice as well as chappathi or appam.
Ingredients
Karimeen                       2
Green Chilly                  4
Garlic                               6
Ginger                              1 piece
Big onion                         3 medium sized
Tomato                             2 medium sized
Chilly Powder                 1 1/2 tsp
Turmeric Powder          1/4  tsp
Curry keaves                   1spring
Crushed pepper corns 1/2 tsp
Salt                                        To taste
Coconut oil                         To fry
Banana Leaves                  2 pieces
Vazhanaru/Thread          To tie
Method
Finely chop all the herbs.Clean the fish and make gashes over it.In a hot pan add the chopped ginger,garlic, green chillies.Fry for a minute.Add the savalas and saught for a while.Add the powders and fry.Now add the chopped tomatos and fry till it is cooked.Add salt and curry leaves.Remove from heat.Now slightly smoke the the banana leaves over the flame so that it will become flexible.Divide the cooked ingredients in to four parts.Place one part over the leaf, place the fish and put the next portion above the fish.Wrap it in such a way that the fish is sealed.Tie with a vazhanaru. Place a tawa over the flame and rub with a bit oil.Put both the fishes over it.Fry both the sides and remove from heat.