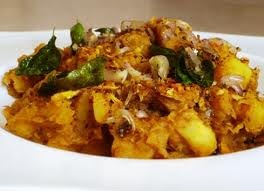 Kappa or Tapioca is an all time favourite of the Keralites.Kappa pieces can be eaten raw.It can be dried and many delicious items can be prepared from it.Kappa can be cooked in different ways.It can be simply cut and cooked with salt known as "Kappa Puzhingiyathu" or "Chendu".Here iam presenting two cooked varients of Kappa namely Kappa biriyani and Kappa puttu. The Biriyani is a common dish in Christian homes in Middle part of Kerala namely Kottayam and Idukki.Just try out this and enjoy.
Ingredients
Tapioca 1 Kg
Green chilli 4
Curry leaves 2 leaflets
Coconut oil 100 g
Mustard seeds a little
Meat( beef) 500 gm
Garlic 25 g
Ginger 25 g
Small onion 100 g
Coriander powder 2tsp
Turmeric powder 1tsp
Red chilli powder 1 tsp
Pepper Powder 1/2tsp
Garam Masala 1/2tsp
Salt To taste
Method
Clean and cut the tapioca into small pieces.Cook the tapioca in water with some salt and turmeric powder.Strain it and keep aside. The meat selected should be the one with bones and some breast pieces in it.
Add all spices to the meat and cook. Heat the oil in a kadai and add mustard seeds and after the seed cracks, add curry leaf, green chilli, small onion and ginger garlic paste.Put the cooked meat to it.Add the tapioca and mix well.Close the pan with a lid add cook for one minute.Mix it thoroughly and remove from heat.Garnish with curry leaves and serve.