Kappa with Meen curry is a tasty combination that can be served as a side dish for dinner or for evening tea.Here is a simple and easy recipe for it.
Kappa

Ingredients
Kappa/Tapioca – 1Kg
Coconut – 1/2
Turmeric Powder – 1/4 Tsp
Green Chilly-4
Garlic – 3
Curry leaves
Small Onion – 5
Coconut Oil – 2tsp
mustard Seeds
Method
Remove the skin and cut the tapioca into small pieces. Place the pieces in a pressure cooker with sufficient water,turmeric powder and salt.Cook well. When it is cooked, drain the excess water.To this, add the coconut paste made by grinding grated coconut,green chilly and garlic. Stir well. Pour oil to a hot pan and season with onion,curry leaves and mustard seeds.Mix the contents well and to this add cook for some time and remove from heat.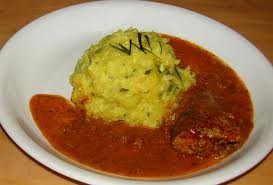 Fish Curry

Ingredients
Fish –1/2 kg
Small onions – 8 (cut length-wise)
Ginger (chopped) – 1 tsp
Coconut milk – 1/2 cup
Kodampuli – 4 pieces
Green chilly – 8 no. (cut length-wise)
Curry leaves
Garlic (chopped) – 1 tsp
Coriander powder – 1 tsp
Chilly powder – 1 tsp
Turmeric powder – ½ tsp
Fenugreek seeds – a few
Salt
CoconutOil
Heat coconut oil in a pan. Putginger and garlic and saute for some time. Add curry leaves and green chillies and small onions. Stir. Add fenugreek seeds then, add turmeric powder, chilli powder, coriander powder and fenugreek seeds. Stir well.
Now add three cups of water and add Kodampuli pieces. Now add salt. When it starts to boil, add fish pieces and stir ell. Boil it till the curry becomes half thick. Proceed to add coconut milk. Stir gently. Then add some curry leaves and put off the flame.
Serve Kappa and Fish curry.