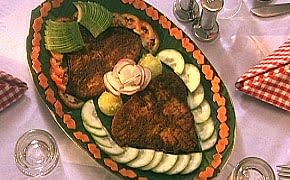 ngredients
Sear fish darned (Sliced on the bone) 1
Crushed pepper corn 5 g
Ginger 3 g
Garlic 3 g
Green Chilli 3 g
Chilli powder 2 g
Turmeric powder 2 g
Curry leaves 1 sprig
Lime 1
Coconut oil 50 ml
Egg ½
Salt To taste
Onion 1
Salad cucumber 50 g
Carrot 50 g
Tomato 1
Method of preparation
1. After cutting the fish, immerse into water with salt and vinegar for half an hour.
2. Prepare a thick masala with crushed peppercorn, ginger, garlic, green chillies, curry leaves, turmeric, chilli powder, limejuice, beaten egg, salt and a little coconut oil.
3. Smear the batter all over the fish and keep it for half an hour and shallow fry in coconut oil.
4. Serve hot in a bed of banana leaf decorated with carved vegetables and lemon wedge.