Chicken Lollipop is a very tasty dish that all non vegetarians love to eat. It is more loved by the children. Here is a simple but tasty recipe that you can try at home.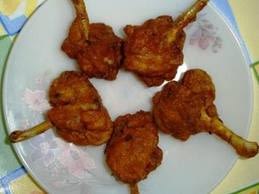 Ingredients
Chicken Legs – 4
Egg – 1
Ginger- 2 2″ pieces
Garlic- 8
Turmeric Powder- 1/2 tsp
Chilly Sauce – 1/2 tsp
Soya Sauce – 1/2 tsp
Curd- 3tbs
Ajinomoto – A pinch
Orange Colour – A pinch
Bread Crumbs – 1 cup
Oil – To fry
Salt – To taste
Method
Make a paste of ginger and garlic. Mix the powders, sauce , salt, colour, ajinomoto and curd together. Marinate over chicken and keep for 3-4 hours in refrigerator. Shallow fry in oil till the gravy is completely absorbed in the chicken pieces and all sides are light brown in colour. Take it out and dip in beaten egg and roll over the bread crumbs. Deep fry in oil.