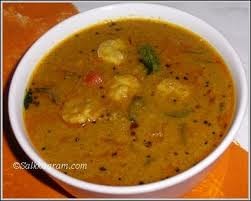 Chembu is a vegetable that is mostly found in almost all the vegetable gardens in the villages of Kerala.This is the time to harvest the vegetable and make delicious currys or puzhukku from it.The season for chemeen had also began now.Now try out this mouthwatering recipe  and you are sure to enjoy it.
Ingredients
Chembu                   250gm
Chemeen                 150gm
Green Chillies       3
Chilly Powder       1/2 tsp
Turmeric Powder 1/4tsp
Salt                               To taste
For Seasoning
Oil
Mustard Seeds
Small Onion
Whole Red Chillies
Curry Leaves

Method
Clean the chembu and cut into small pieces.Clean the prawns.Put both the items in a vessel and pour enough water.Add salt,split green chillies and  turmeric powder and cook well.Remove from heat.For seasoning put a pan over the stove and add the oil.When hot, splutter the mustard seeds.Add the cut small onions,whole red chillies and curry leaves.Fry for some time.Add the chilly powder.Fry for a minute and add the cooked ingredients.Mix well and bring to a boil.Remove from heat and serve cold.
Note:Usually Chembu does not irritate the tongue during this season.If it irritates add the juice of a lemon sized tamarind while seasoning.