Fish/ Meen curry cooked with curd/yoghurt is a special item which is seen usually in Northern parts of Kerala especially in Kannur.For the preparation we should use small fish like Natholi,small mathi(sardine),Mullan etc which do not contain fat.It is said that curd does not go well with the fish but since the small fish does not contain fat it does make any health issues.So have a look and try to make this curry.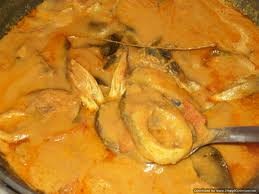 Ingredients
Any small fish -1/2kg
Salt As per taste
Chilly Powder 1 tsp
Turmeric Powder As required
Shallots 8-10
Green Chilly 5
Coconut 1/2
Garlic 3-4
Jeerakam A pinch
Curd 1cup (Sour)
Coconut Oil 1tsp
Curry leaves 1 spring
Method
Add salt ,chilly powder and turmeric powder to the cleaned fish and keep aside. Crush the shallots and Cut the Green chillies lengthwise.Add this to the fish and cook in an earthern pot. Grind the coconut, jeera,garlic along with curd to a smooth paste.Add this to the half cooked fish.Cook till done.Add the coconut oil and remove from heat. Sprinkle some curry leaves.