Fish curry is a must in most of the Non vegetarian houses in Kerala. Fish curry along with rice is the favourite combination for the lunch.Fish curry can be cooked in different ways. But fish curry with coconut is the favourite of my family.Here is the recipe of fish curry with coconut and coconut oil. Here i use Kudampuli. You can use tamarind pulp,mango or tomato instead of kudampuli.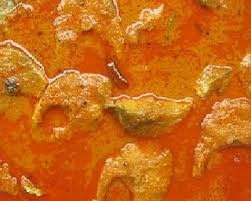 Ingredients
Fish (Any) – 1/2kg
Coconut -1/2 cup
Chilly Powder- 2tsp
Coriander Powder-1tsp
Turmeric Powder-1/4tsp
Green Chilly-6
Shallots-3
Ginger-1 2″ piece
Kudampuli-4
Curry Leaves-As per taste
Coconut oil-1tsp
Salt- To taste
Method
Clean the fish and cut in to medium size pieces.Put the kudampuli in a glass of water. Cut the green chillies lengthwise. Clean the shallots and ginger pieces and cut into small pieces. Grind the coconut with a shallot, chilly,coriander and turmeric powder to a fine paste.Put the fish pieces in an earthern pot and add the ground paste, curry leaves,green chillies, ginger pieces,salt and kudampuli with water. Add required quantity of water. Cook till done. When it is ready to put off the flame add the cut shallots, a teaspoon of coconut oil and some curry leaves. Allow to boil and put off the flame.Allow the curry to stand for some time before serving.