Even though Fried Rice is not a typical Kerala meal now most of the Malayalis often try this at home. There are many variants of this dish as you can use only vegetables and make  Veg fried rice or use Chicken pieces and make chicken fried rice or a mixed one with many sea food varieties. This is the simplest of any dish that you can present as a complete meal. Try this recipe at home and please let me know your experience and suggestions.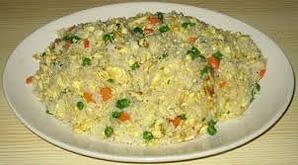 Ingredients
| | |
| --- | --- |
| Basmati Rice | ½ kg |
| Chopped Vegetables (Carrot, Cabbage,Capsicum, Celery, Spring onion) | 2 cups |
| Salt | AS per Taste |
| Sugar | 2 pinches |
| White Pepper | ½ tsp |
| Ajinomoto | A pinch |
| Oil | 3tbsp |
| Egg | 3 |
Method
Soak water in a container with water level a little above than the rice. Mean while boil water in a container and add required quantity of salt to the water. When boiled add rice and cook till 3/4th. Strain through a strainer and keep for 3-4 minutes in the strainer. After that spread over a large basin so that the rice cools and do not become sticky. In a pan add oil and add beaten egg so as to make scrambled egg. Do not over cook. Add the chopped vegetables and cook by stirring continuously. When 3/4th done add salt.  Cook till done. Add rice and mix well. Add Chinese masala. (Salt,Sugar, White pepper powder and Ajinomoto). Mix well  and finish with spring onion.
Note: If you want you can add soya sauce around 1/2 tsp after add rice to the pan and mix well so that it spreads to all the rice. In that case the amount of salt should be restricted since the sauce itself have some salt taste.