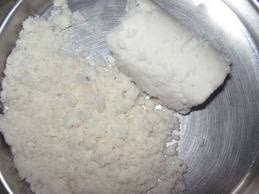 Ingredients
Rice Flour 2 cups(Fried)
Grated Coconut 1 cup
Water As needed (almost 1/2 a cup)
Salt To taste
Method
To the rice flour add the salt and a hand full of grated coconut.Mix it well.Add water little by little and mix with your hand in a way that no lumps are formed. The flour has to be in a powdered form itself.Now the flour is ready to use.Now to fill the mould, first add 1 tsp of grated coconut and a hand full of rice flour again 1tsp coconut and then rice flour.Repeat the process till the puttu kutti is full.Now close with a lid.Now you can steam the flour for 5 minutes.And your puttu is ready to be served.
Note:
You can use wheat,ragi,roasted boiled rice or any flour of your choice to make the puttu.Puttu can be made nutritious by adding finely chopped vegetables of your choice in between the flour and grated coconut.Can be made sweet by adding jaggery or cut fruits of your choice (eg mango,jackfruit,nendran etc).
If you do not haved a puttu kutti also you can steam it in an idly mould or in a kannan chiratta over a pressure cooker.