Appam is an important breakfast food of the keralites.Rice appam with chan dal,stew(veg or non veg) is a great combination to have.It is prepared by fermenting rice,coconut water,yeast etc. Kallappam is an another version of the same inwhich toddy is used for fermentation instead of yeast and sugar.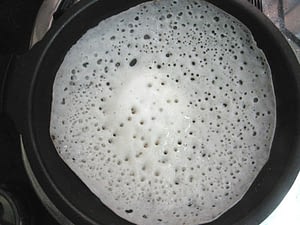 Raw rice                       11/2cup
Cooked rice                 1/2cup
Coconut                          1/2
Dry yeast                      1/4tbsp
Sugar                             1tbsp
Coconut Water          1cup
Salt                                 As per taste
Method
Soak the raw rice in water for about 6 hours.Grind together raw rice ,scraped coconut ,boiled rice and salt along with the coconut water.Add water if required.Grind to a very fine paste.Meanwhile take 1/4 glass of luke warm water and mix the sugar and yeast together.Keep aside for half an hour to let it ferment.Add this to the batter.The batter should be in the consistency of dosa batter.Keep it overnight.In the morning you can make appam in the appachatty.